Blog
A New Challenge
A while back I challenged myself to paint a watercolor cat every day for 30 days.  It was a lot of fun and kept me productive.
I decided I wanted to take on another productive challenge.  Every day, including today, I will get up extra early to make something before I have to go to work.
I wasn't sure how it would work out or if I would be too tired or not creative at that time of the morning, but I actually woke up before the alarm, excited to get going and all sorts of ideas came to me, and continued throughout the day.
I started with the green monster I'd been sort of stuck on for a while.  Today he spoke to me and told me what to do next.  I tried a new experiment with the others by starting with the black and will fill in with color later.  The ones I made previously I started with the color.  I had no idea what I was going to do before I started, just intuitively did what felt right.  It was so FUN!  I was energized all day and it was a great way to spend a Monday.
Here's a picture of the work in progress for today.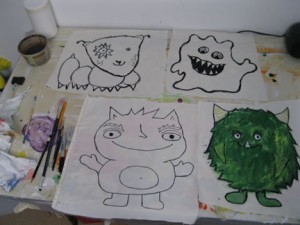 Now to quote Dr. Seuss, "Today was good.  Today was fun.  Tomorrow is another one."